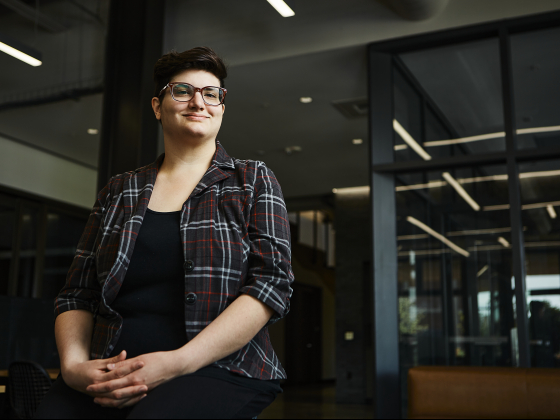 In new research published in The Astrophysical Journal and presented during yesterday's AAS press conferences, a postdoctoral researcher at Montana State University, Mallory Molina, has come up with a new way to find massive black holes in dwarf galaxies, all by changing the color of the flashlight beam. No, really.
It's difficult to find black holes, especially in distant or smaller galaxies. The light we measure ends up being the total light from the galaxy, and it can be hard to break out just the light being emitted by the infalling stars, gas, and dust. And if that galaxy is still forming stars, then the process of detection is even more complicated. Molina explains the issue by using a flashlight as a stand-in for the light that is coming from a black hole: It would be easy enough to see the beam if the area is dark. But what if someone turns on a spotlight? The flashlight can't compete with the larger light source. Is there a way to cut through star formation and find black holes in these galaxies?
And that's where she decided to change the color of the flashlight beam.
Molina's new method uses a wavelength of light that's only 6,374 angstroms as a marker for the black holes. This light comes from isotopes of iron 10, which have no electrons and give off light that produces coronal emission lines. Using this technique, Molina found two black holes in dwarf galaxies previously only detected in radio wavelengths. That first detection means iron 10 is detectable this way, and the second detection proves you can use this method in a survey. And as Molina concludes: Almost all of the iron 10 emission that I detected was way too bright to be produced by stellar means like supernovae, but it was consistent with material falling onto a black hole.
We send our congratulations to Dr. Molina for her groundbreaking work.
More Information
MSU press release
"A Sample of Massive Black Holes in Dwarf Galaxies Detected via [Fe x] Coronal Line Emission: Active Galactic Nuclei and/or Tidal Disruption Events," Mallory Molina et al., 2021 November 26, The Astrophysical Journal