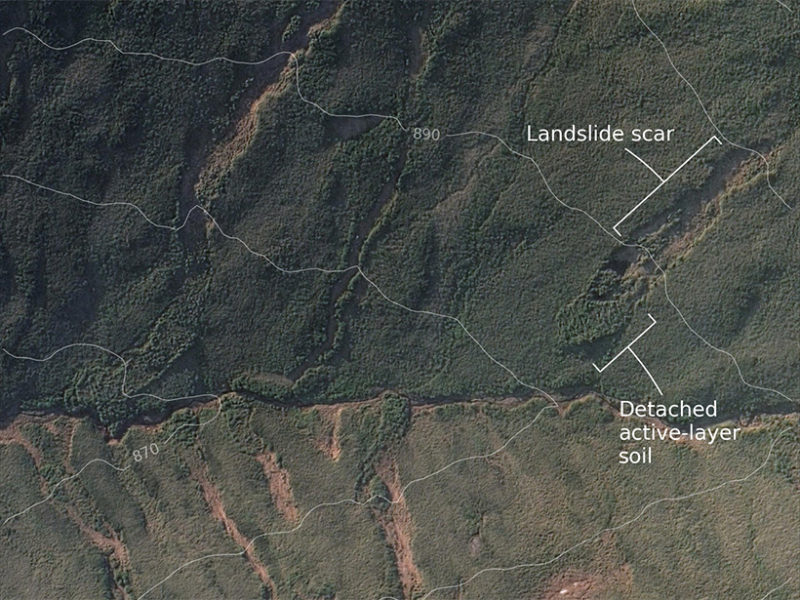 Glaciers aren't the only thing sliding down mountains thanks to melting. In the extreme northern and southern latitudes of our world, there are regions where, until recently, the earth – and here I mean the soil – was constantly below freezing. While the top bit of land might melt enough to allow grasses and some trees to grow, any significant amount of digging would be brought to a halt by ice. That ice is melting, and it turns out that melting ice in soil and melting frosting on a cake can both cause things to slide and crumple.
Another new paper, this time in Geophysical Research Letters and led by H.T. Mithan, is showing that ice lenses – places where ice is focused beneath the landscape – can melt and inject significant amounts of water into the soil, causing a landslide in which the top part of a hill or mountain simply slides down, leaving behind an empty scar.
In a study of a 100-square-kilometer region of Alaska, this paper's authors were able to identify 188 events in satellite images from a single year. While most occurred far from humans, there is the potential for these kinds of events to destroy communities, and this research is now being used to try and identify where ice lenses are likely lurking beneath the landscape. By identifying the dangerous ice before it melts, it may become possible to put in warning systems or otherwise mitigate potential damage and loss of life.
More Information
Ice Lenses May Cause Many Arctic Landslides (Eos)
"Topographic and Ground-Ice Controls on Shallow Landsliding in Thawing Arctic Permafrost," H. T. Mithan, T. C. Hales, and P. J. Cleall, 2021 June 26, Geophysical Research Letters