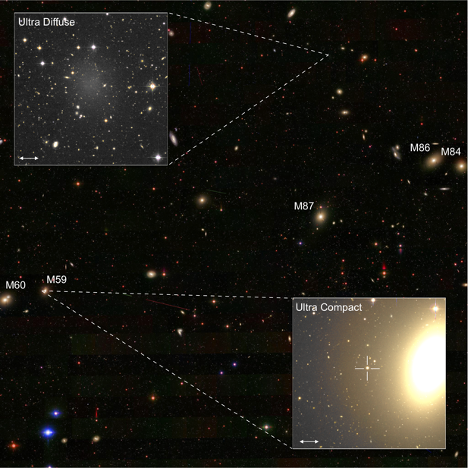 Galaxy clusters are a common target for telescopes. They are stunningly beautiful, they host a whole lot of objects in a very small region of the sky, and they, unlike star clusters, contain a myriad of different kinds of objects. As our telescopes get better and better, and as astronomers look for longer and longer periods of time, the diversity of what we see has grown.
In a new paper in The Astrophysical Journal (ApJ), Chengze Liu and collaborators have explored the population of ultra-compact dwarf (UCD) galaxies and ultra-diffuse galaxies (UDG) in the Virgo Cluster using MegaCam on the Canada-France-Hawaii Telescope (CFHT). This work was done as part of the Next Generation Virgo Cluster Survey. 
These small, weird systems define the known edge cases in galaxy structure, and it is unclear if their structures are due purely to interactions within the cluster, or if they could initially form this way. The UCD galaxies look like either large star clusters in isolation or like the cores of galaxies that have been stripped of their halos. In some cases, wispy trains of stars surround them, leading to the thinking that they may, at least in some if not all cases, be regular galaxies that lost a lot of their content.
On the other extreme, the UDGs are simply confusing, as they appear to have globular clusters that usually require galaxy-condensing events to form. According to co-author Sungsoon Lim: The diversity in their properties indicates that while no single process has given rise to all objects within the UDG class, at least some UDGs have appearances suggesting their diffuse nature is due to tidal interactions or to the merger of low-mass galaxies.
More Information
"The Next Generation Virgo Cluster Survey (NGVS). XXX. Ultra-diffuse Galaxies and Their Globular Cluster Systems," Sungsoon Lim et al., 2020 Aug. 13, Astrophysical Journal (preprint on arxiv.org)
"The Next Generation Virgo Cluster Survey. XXXIV. Ultracompact Dwarf Galaxies in the Virgo Cluster," Chengze Liu et al., 2020 Sep. 10, Astrophysical Journal Supplement Series (preprint on arxiv.org)