Saturday morning, May 5, NASA is scheduled to launch the InSight mission to Mars, under pre-dawn skies from Vandenberg Air Force Base on the central coast of California.
The mission's launch period is May 5 through June 8, 2018, with daily launch windows that last two hours per day. Launch opportunities are set five minutes apart during each date's launch window. The first opportunity begins at 4:05 a.m. Pacific Standard Time on May 5.
Pamela is going to livestream the launch over on our CosmoQuestx Twitch stream. We are also going to have sci-fi toy giveaways for people who are using our Mars Mappers program to map craters and features during her livestream!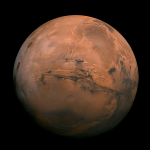 Here's what we'd like you to do:
Go to our Mars Mappers program
Register and go through the tutorial if you aren't already a Mapper
Then start marking features on images of the surface of Mars while Pamela is livestreaming after the launch
To be eligible to win prizes, you'll need to mark at least 15 images within the hour, and then your name will be in the drawing for that hour!
Pamela is planning to do this for at least 3 hours after launch, and she's willing to go as long as 6 hours, if we still have 15 people marking and 600 images per hour getting marked!
If the launch is delayed, we'll delay the stream. We'll keep you posted on the Twitch stream, and will update this post!
Look below for some of the prizes!