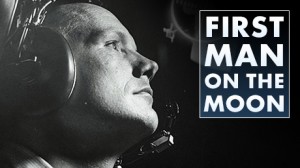 We all love our moon—the beautiful, clear light in the night that's inspired us for thousands of years. We write stories about her, songs, myths; most of you spend a significant amount of time exploring her surface yourselves, through telescopes or our Moon Mappers project, learning more about her every day. But how much do you know about the first person to set foot on her dusty surface?
Tonight, you have the chance to find out.
Airing December 3 at 9PM, "Man on the Moon" presents an in-depth look at the life of Neil Armstrong, the first man to walk the lunar surface. Throughout his life, from his time as a Navy Combat Veteran to his insight on the Challenger disaster and more, Armstrong became a scientific beacon, encouraging people everywhere to take to—or at the very least look to—the skies.
Both before and after Apollo, Armstrong's dedication to the advancements of science and exploration saw him suddenly thrust into the role of a national hero, furthering humanity's foray into space exploration.
Through interviews with Armstrong's family and friends, many of whom have never taken to the public eye with their stories, this NOVA program will shine new light on the man whose legacy continues to fuel an excitement for space and lunar discovery, long after his first flight to the moon.
You can see NOVA's "Man on the Moon" on PBS tonight, December 3 at 9PM, or learn more at http://www.pbs.org/wgbh/nova/space/first-man-on-moon.html