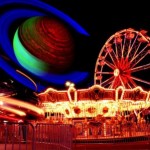 The Carnival of Space is a traveling list of the week's best astronomy blog posts as submitted by bloggers from around the world.
This week, we head over to the Urban Astronomer blog by Allen Versfeld for the 343rd Carnival of Space. A huge group of stories includes:
Saturn's polar hexagon,
715 new exoplanets!
the next generation of exoplanet finders,
CERN's next big project, and more.
Find out more about the Carnival of Space at Universe Today.