By Annie on February 19, 2014 in
Science on the Half Sphere's first full-length planetarium show is Cosmic Castaways. In this series of posts, we will talk about how the show was made. The goal is to help other people interested in making full-dome planetarium shows see what we did, and hopefully avoid our mistakes!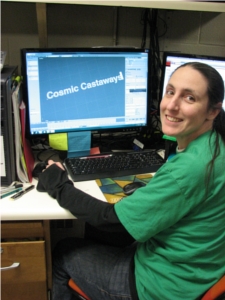 In the next series of postings, we will focus on Annie Wilson, our animation guru, who did an enormous amount of work on Cosmic Castaways. Take it away Annie!
So you want to learn how to use Blender to create fulldome videos.  May the Force be with you.
Getting started with Blender
I'm going to assume that you've downloaded the lastest version of Blender.  More builds are available at GraphicAll.org but they are customized (and sometimes experimental) and chances are that you won't need anything beyond the trunk version available from Blender.org.
Register for (or at least bookmark) CGTextures, OpenGameArt, BlendSwap, BlenderArtists, and Blendertarium.  You'll use at least one of these sites during the course of a project.
If you have the money or opportunity to get Blender training, do it.  Professional training materials are usually very easy to follow and sometimes come with freebies that you can use in your own projects. We purchased the platinum package for Blender Guru's Nature Academy.  Blender Foundation also sells training materials on DVD, most of which focus on animated creatures or people.  Blender Cookie requires a modest subscription for full access to all of their courses.  For planetarium-specific training Blender workshops are sometimes offered at conferences.
If you don't have the money, don't despair!  Most of the training material out there is available as free tutorials.  Browse BlenderGuru and do web searches for Blender tutorials.  Having problems finding current tutorials?  Add the version of Blender that you are using to your search.
There are multiple rendering engines in Blender: Internal (Blender Render), Game, and Cycles.  Do yourself a favor and focus on learning Cycles.  The internal render engine is no longer in development and support may be dropped entirely.  The good news is that most features that were previously only available with the Internal engine are now available with Cycles.
Now that you've downloaded Blender, bookmarked your resources, and found your training of choice it's time to make things!  Ensure that you won't have any interruptions for a couple of hours and start with something very simple.
Tips for working on a project
Find the simplest way to do something.  It'll probably save you render time and you'll have a better chance of remembering what you did to create the effect you were working on.  You'll probably learn an easier or better way to do something later.  It's okay — this is perfectly normal.

Do everything you can in production to reduce the amount of time you have to spend in post-production.  This can be something as simple as using a fisheye camera rig instead of the default flat camera.

Keep a calculator handy to convert timecode to frames.  This is especially helpful when you're trying to align action on the screen with a pre-existing soundtrack.

If you aren't comfortable with modelling or are short on time there are models available online.  BlendSwap is a good first stop since the files will all be compatible with Blender.  Other sites like TurboSquid have both free and licensed models but they may not be compatible.  NASA has a small collection of free models.

Start early on the scenes that you aren't quite sure how to create.  It sounds counterintuitive, but this gives you more time to finish the scene rather than saving it for last.  The sunset scenes in Cosmic Castaways took me about a year from initial concept to finished product.

Stuck on a scene?  Take a break.  Work on something else.  Ask for help.

Even if you're in the middle of a project, never stop looking at tutorials.  Sometimes you'll find something that is the perfect effect for whatever you're working on.  The text in the title sequence was created after I found a dissolve text tutorial.
Remember: "Animate everything!"  If you can think of it, it can probably be animated.