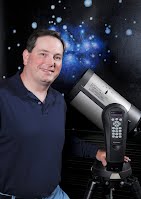 In the next series of postings, we will focus on Curt Spivey, our planetarium engineer, and the director of Cosmic Castaways.  Curt has had a long and varied experience as a planetarium engineer and show producer.  Here, Curt is talking about his experiences working in different planetariums.  Take it away, Curt!
My Background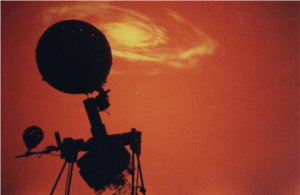 I started working in planetariums in 1996 in Charleston, WV. I ran a tiny 24 foot dome that opened in 1962. I had a Spitz A3P (incandescent light source), 4 carousel slide projectors, 1 zoom slew projector (that only focused over a very small portion of the zoom) and 4 single shot "brute force" projectors that could make a panorama over about half of the dome. While I was able to run some Loch Ness and Hayden "classic" slide based prerecorded shows (manually, I might add), my backbone show was What's Up Tonight, a live star talk.
The important thing here is I honed my narrative doing those star talks. When you are in close quarters with 60 people, you can feel when you have their attention and when they are restless. You keep the jokes and tidbits that work, and quickly discard things that don't work or confuse. I find a conversational tone; simple explanations and light humor go a long way to your audience's entertainment. (Naturally, Cosmic Castaways doesn't have much humor, but I wasn't the only writer and this particular show didn't lend itself to gags).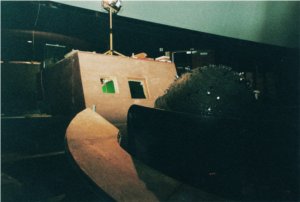 Our museum moved from its little home on the hill to a brand new downtown facility in 2003. Suddenly, I found myself under a 60 foot dome with 175 seats. It used the immensely complicated ElectricSky I system from Spitz that covered the dome with forward panorama video, slide all sky projectors and the Space Voyager starball behemoth. It was also a large format film theater (what most common folks know as OMNIMAX, but our projector was by a company called Megasystems).
Here I learned what constitutes a good prerecorded show, both from the planetarium and the films we ran. Make your point, emphasize with stunning imagery, well placed humor and awe, and make it pithy. Oh, yeah – the eSky I system was so cludgy that I also got very good at improvising while trying to correct technical errors. The system went down about every week or so due to various failings.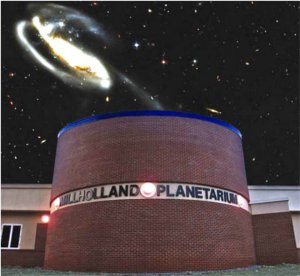 My final stop before Youngstown was Hickory, NC where I opened a brand new fulldome planetarium in 2007. The Catawba Science Center built a 30 foot dome with 65 seats, featuring the Konica Minolta MediaGlobe II system and an AVI Skylase Laser system. Quite an elegant setup.
In Hickory I learned the art of full dome immersion – using the faux 3D feel of a fulldome to transport the audience to new experiences. Nearly as importantly, I met Ron Proctor and was introduced to the power of the software known as Blender to create original shows.
All that experience made me an attractive candidate to the Ward Beecher Planetarium who brought me back to my native state in 2009.
---
In the next part of this series, Curt will talk about the hardware and software needed to create Cosmic Castaways.
Science on the Half Sphere's first full-length planetarium show is Cosmic Castaways.  In this series of posts, we will talk about how the show was made.  The goal is to help other people interested in making full-dome planetarium shows see what we did, and hopefully avoid our mistakes!