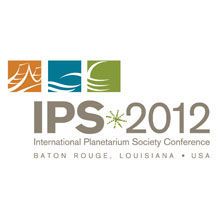 For those of you attending the IPS next week, we wanted to give a heads up on a pair of short trailers that will debut at the meeting. Both programs are funded through research grants from the National Science Foundation, and will be made available for FREE for use in other planetaria for any non-profit, educational uses.
These include:
Cosmic Castaways – a fulldome planetarium show on the subject of the stars that we now know lie *between* the galaxies.   The final version of this general audience show is expected to be available in Spring 2013.  A fullscreen version is also planned.
Fulldome Mauna Kea – a series of fulldome timelapse sequences and images from the summit of Mauna Kea, including images from many of the telescopes.  These images and sequences are expected to be available later this fall.
Both trailers will be presented in the Demonstration Dome (21A) in the Dome Village at the IPS, at the following times:
Monday, July 23 at 11:30am
Tuesday, July 24 at 10:00am and 4:30pm
Wednesday July 25 at 10:00am and 4:00pm
Thursday, July 26 at 10:00am
Of course, if you cannot make any of these times, by all means stop Patrick Durrell at the meeting and ask!  And for those not attending IPS, no worries — more information will be posted sometime after the meeting.