Media

Transcript
First up, Arianespace launched an Ariane 5 rocket on Saturday, August 15th at 22:04 UTC. There were three payloads on board: Galaxy 30, MEV-2, and BSAT-4b.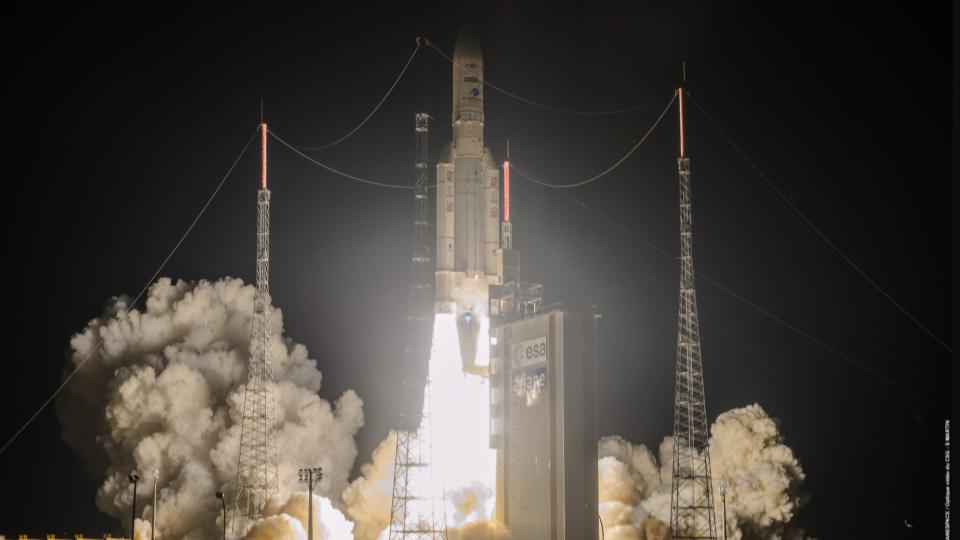 According to the launch press kit from Arianespace, Galaxy 30 is the first replacement satellite in Intelsat's North American Galaxy fleet refresh. It will eventually replace Galaxy 14 in its current slot at 125 degrees west in early 2021.
BSAT-4b is a backup to the BSAT-4a satellite launched in September 2017. It will provide Direct-to-Home (DTH) television for 4K/8K ultra-high definition (UHD) video distribution across the Japan archipelago. It has a planned service life of at least fifteen years.
MEV-2, short for Mission Extension Vehicle 2, was supplied by Northrop Grumman for SpaceLogistics LLC. It is the first satellite servicing vehicle launched by Arianespace. The MEVs are designed to latch onto a satellite that is out of propellant but is otherwise operational and extend the useful life of the satellite by using its thrusters to keep the satellite in its proper orientation. After about five years, the MEV will move the satellite into a graveyard orbit, undock and move on to another satellite that needs its services.
In the case of Intelsat 10-02, MEV-2 will dock with the satellite and help with station keeping (keeping the satellite where it's supposed to be) for the next five years or so, before the satellite is moved to the graveyard orbit, after which MEV-2 will be able to move on to help another satellite.
On Tuesday, August 18th at 14:31 UTC, another batch of fifty-eight satellites was added to the Starlink constellation by a SpaceX Falcon 9 rocket that was launched from SLC-40 at Cape Canaveral AFS, joining the more than six hundred Starlink satellites already on-orbit.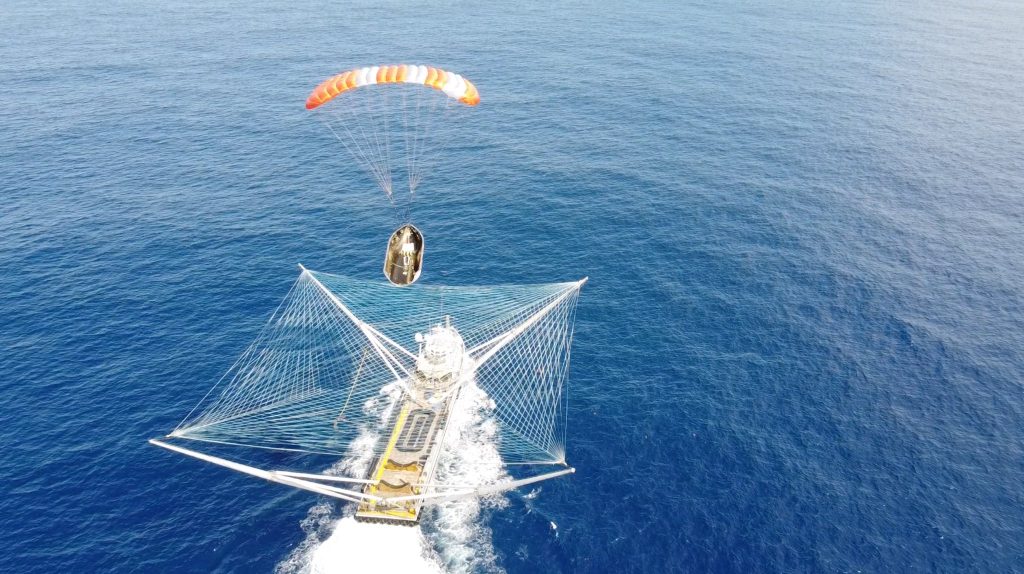 The confusingly named Starlink-10 mission is actually the eleventh Starlink mission. It's called Starlink 10 because it's the tenth launch of version 1.0 Starlink satellites.
Like some other Starlink launches, this one included ride-share payloads: three earth-observing satellites owned by PlanetLabs: SkySat-19, -20, and -21. Joining eighteen other satellites in the SkySat constellation, these satellites will provide high-resolution imaging available to a variety of governmental, commercial, academic, and non-profit organizations.
This flawless launch with near-perfect weather conditions had an instantaneous launch window, meaning that it had to launch at the exact time in order for the satellites to make it to their intended locations on-orbit.
Like the satellites launched in Starlink-9, these satellites include sun visors that are designed to reduce their reflectivity.
For those of you keeping score at home: This was the sixth flight for the F9 booster B1049.6, which makes it the most reused and most-landed booster. The two fairing halves had also previously flown. Ms. Tree successfully caught a fairing half in her net.
For the last item in this week's spaceflight news, we look at something that's coming down, rather than going up, as Japan's last HTV cargo vessel was set loose from the International Space Station (ISS) yesterday.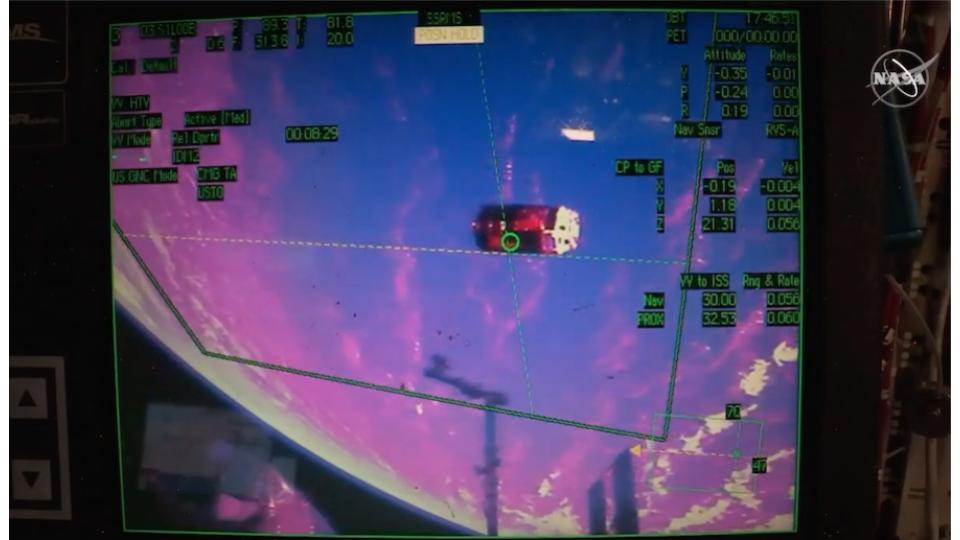 Japan Aerospace Exploration Agency's (JAXA) ninth and final H-2 Transfer Vehicle (HTV), named "Kounotori," was unberthed from the ISS yesterday with literally tons of garbage, unneeded or outdated equipment, and a large batch of old ISS batteries aboard. Depending on atmospheric conditions, it will be burning up in the atmosphere at some point around 07:07 UTC Thursday morning high over the South Pacific.
JAXA's next resupply mission to ISS won't be until February 2022 with the new and upgraded HTV-X, which will feature an empty vehicle mass one metric ton less than that of the current model, 1.8 metric tons greater net cargo capacity, a lower cost of construction, and various other advancements. It will be launched aboard JAXA's next-generation rocket, the H-3.
Kounotori, which means "white stork" (a cultural symbol indicating hopes and dreams for the future) was launched aboard Japan's last H-IIB rocket this past May and was set free from the ISS at 17:36 UTC on August 18th.
To wrap things up, here's a running tally of a few spaceflight statistics for the current year:
Toilets currently in space: 3
Toilets burned up: 2
Total satellites humans put into orbit: 688 (includes those launched from other in-orbit craft, such as the ISS)
Total satellites from launches: 672
Total 2020 launch attempts: 64 (including 7 failures)
I keep track of orbital launches by where they launched from, also known as spaceport. Here's that breakdown: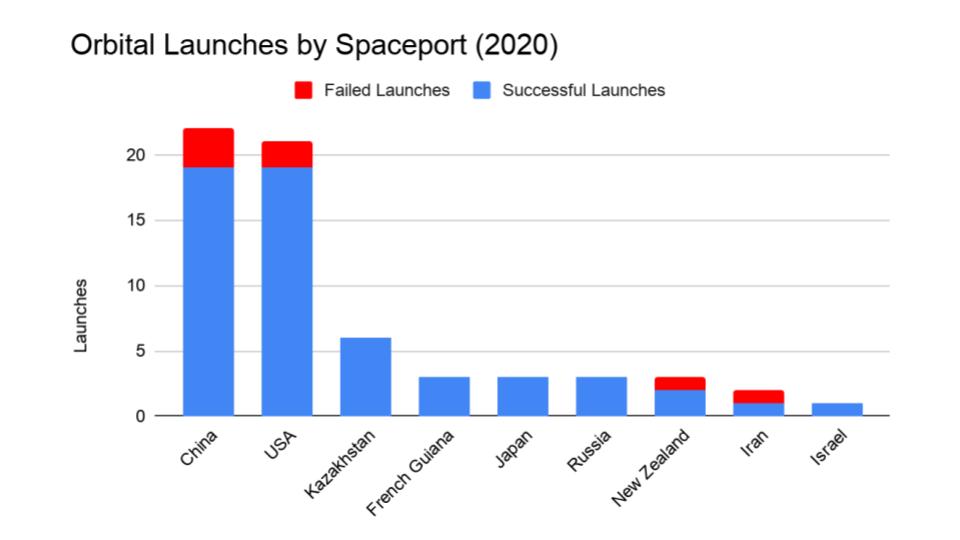 China: 22
USA: 21
Kazakhstan:6
French Guiana: 3
Japan: 3
Russia: 3
New Zealand: 3
Iran: 2
Israel: 1
Your space fact for the week comes from NASA: If you could stand at the Martian equator, the temperature at your feet would be like a warm spring day, but at your head, it would be freezing cold!
Learn More
Debuting upgrades, Ariane 5 rocket deploys three U.S.-built satellites in orbit
SpaceX adds more satellites to ever-growing Starlink network
Last in current line of Japan's HTV cargo ships departs space station
Credits
Host: Annie Wilson
Writers: Annie Wilson, Dave Ballard, Gordon Dewis, Ally Pelphrey
Audio and Video Editing: Ally Pelphrey
Content Editing by Beth Johnson
Executive Producer: Pamela Gay
Intro and Outro music by Kevin MacLeod, https://incompetech.com/music/