Media

Transcript
First up, four super-secret spy satellites were launched from the Mid-Atlantic Regional Spaceport aboard a Northrop Grumman Minotaur IV rocket on July 15, 2020, at 1:46 PM (UTC).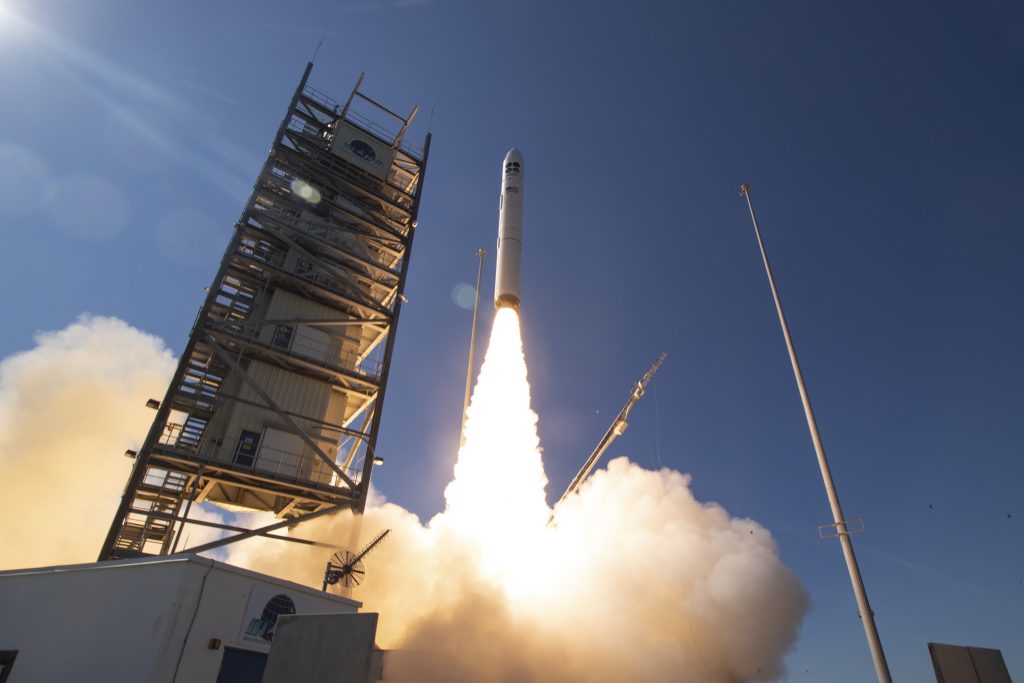 There are not one but two mission patches for this launch. According to a Facebook post from the National Reconnaissance Office (NRO), the patches feature: two warrior figures working together to defend our nation's interests and deny our enemies sanctuary. These patches include the phrase 'Our Time has Come,' which symbolizes that these payloads will enable the NRO's continued support to both defense and intelligence operations in support of national security.
BONUS FACT: The first three stages of the Minotaur IV utilize government-furnished solid rocket motors from decommissioned Peacekeeper intercontinental ballistic missiles (ICBMs).
Next up, on July 19 at 9:58 PM (UTC), a JAXA H-2A rocket launched the Emirates Mars Mission.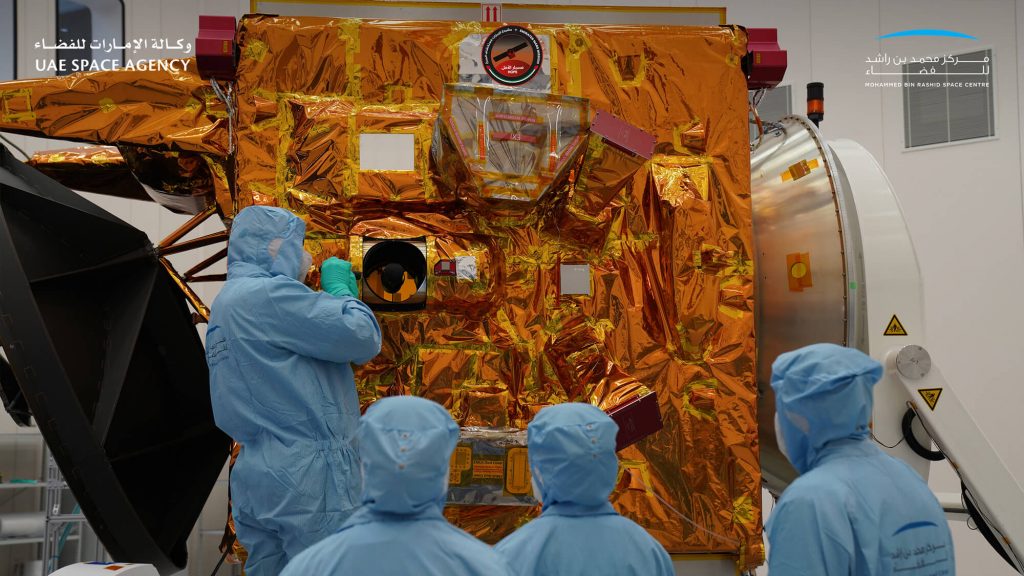 This is the first interplanetary mission for the United Arab Emirates (UAE). The orbiter is expected to arrive sometime in February 2021 and will study climate and weather on Mars.
There are three instruments onboard:
First up is the Emirates Mars Infrared Spectrometer. According to information from the mission website as well as Gunter's Space Page, it was developed by Arizona State University and will study Mars' lower atmosphere in the infrared band and "will [measure] the global distribution of dust, ice clouds, water vapours, and temperature profiles."
Second is the Emirates eXploration Imager, a "multi-band camera capable of taking 12-megapixel images." It has three UV filters and three visible range filters that it will use to measure ice, dust, and ozone in the atmosphere of Mars.
And third, the Emirates Mars Ultraviolet Spectrometer, which will determine "the abundance and variability of carbon monoxide and oxygen in the thermosphere on sub-seasonal timescales, calculate the three-dimensional structure and variability of oxygen and hydrogen in the exosphere, and [measure] the relative changes in the thermosphere."
Finally, on July 20, 2020, at 9:30 PM (UTC) SpaceX launched the ANASIS-II for South Korea from SLC-40 at Cape Canaveral Air Force Station.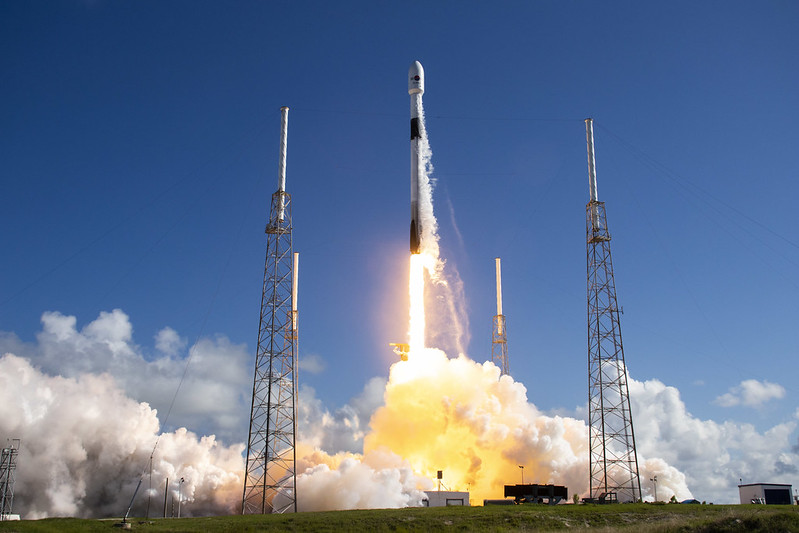 ANASIS-II — which stands for Army/Navy/Air Force Satellite Information System Two — is South Korea's first dedicated military communications satellite.
Not much else is known about it because it's a SUUUUUPER SECRET military mission.
Good news, though: SpaceX pulled off a hat trick. The Falcon 9's landing was successful and both fairing halves were caught! This is the first time both fairing halves have been caught.
To wrap things up, here's a running tally of a few spaceflight statistics for the current year:
Toilets currently in space: 4
Toilets burned up: 2
Total satellites humans put into orbit: 557 (includes those launched from other in-orbit craft, such as the ISS)
Total satellites from launches: 541
Total 2020 launch attempts: 55 (including 7 failures)
I keep track of orbital launches by where they launched from, also known as spaceport. Here's that breakdown: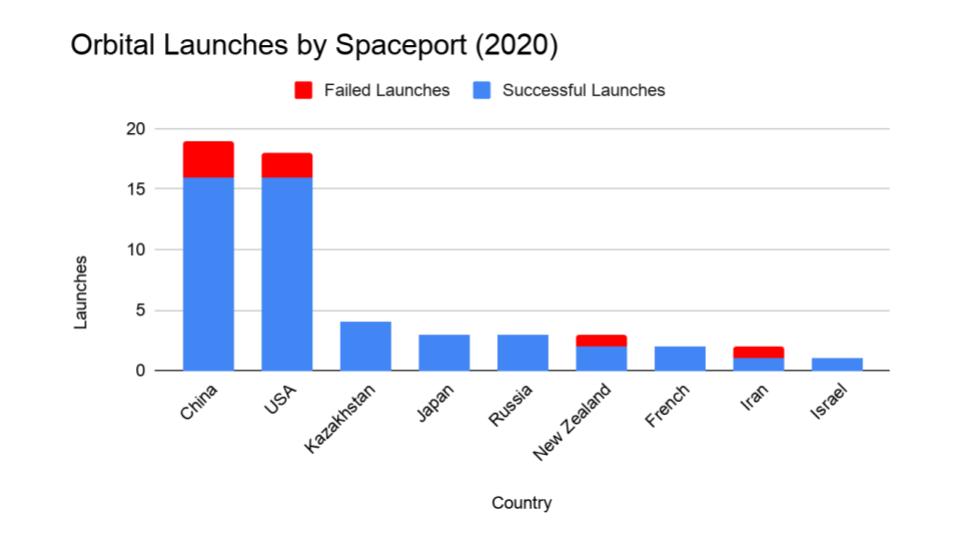 China: 19
USA: 18
Kazakhstan: 4
Japan: 3
Russia: 3
New Zealand: 3
French Guiana: 2
Iran: 2
Israel: 1
Your useless space fact for the week comes to us from List25 via community member Flamelord, who wanted to remind us that: Jupiter's mass is 2.5 times greater than that of all the other solar system planets combined.
Learn More
Minotaur rocket successfully deploys four NRO satellites in orbit
United Arab Emirates successfully sends its first mission toward Mars
SpaceX delivers South Korea's first military satellite into on-target orbit
Credits
Host: Annie Wilson
Writers: Annie Wilson, Dave Ballard, Gordon Dewis, Ally Pelphrey
Audio and Video Editing: Ally Pelphrey
Content Editing by Beth Johnson
Executive Producer: Pamela Gay
Intro and Outro music by Kevin MacLeod, https://incompetech.com/music/