Hello, and welcome to the Daily Space for today October 23, 2019. I am your host Annie Wilson. Most Mondays through Fridays, either I or my co-host Dr Pamela Gay will be here bringing you a quick rundown of all that is new in space and astronomy.

Usually Wednesdays are for Rocket Roundup, but nothing went to space this past week! So instead, let's chat about other spacecraft related news.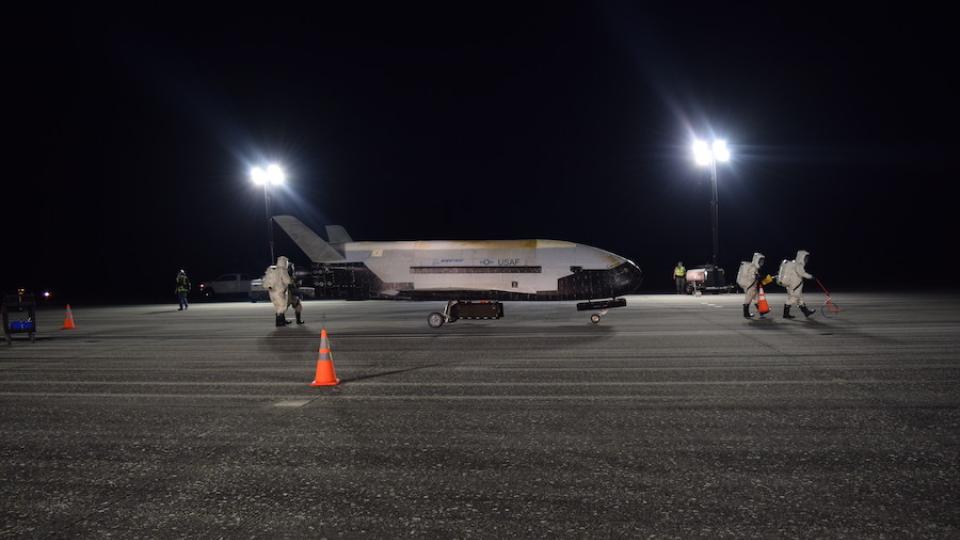 First up:
The 5th X-37B Orbital Test Vehicle flight ended October 27th after a record-setting 780 days in space, breaking the craft's previous record of 718 days. While the vehicle itself is unclassified, the Air Force has been quiet about many of the payloads that the craft has carried, and this flight was no exception.
The USAF press release included a picture of the X-37B with the recovery team dressed in HAZMAT suits.  Now, before I go any further, we need to address those HAZMAT. Spoiler alert: it's *not* aliens. The propellent used in the X-37B is unsymmetrical dimethyl hydrazine and nitrogen tetraoxide.  These compounds are a great compromise between liquid and solid fuel: stable and able to be throttled. What they *aren't* great for is living beings, including humans. Both compounds are highly toxic and definitely not something you want to be anywhere near without some protective equipment.
So, what exactly was the X-37B doing in space for all of this time?  Honestly, we really don't know because most information relating to the mission is classified.  Typically, the USAF doesn't speak much about the payloads aboard these craft, but an announcement was made back in 2017 that the Air Force Research Laboratory would be testing the Advanced Structurally Embedded Thermal Spreader, or ASETS-11.  The goal was to "test experimental electronics and oscillating heat pipes in the long duration space environment.". We do know that the bay doors open like those of the US Space Shuttle, so it's quite possible that experiments and hardware were mounted inside the cargo bay and then exposed to space.
While having tests and experiments inside of the cargo bay isn't controversial, there has been some noise about the X-37B launching smallsats. In press releases from the USAF, a rideshare with smallsats is mentioned which has led some to speculate that the craft has been launching undeclared satellites while in orbit. (There is literally a UN space treaty that the US has signed and ratified, and part of the treaty involves disclosing and registering when and where objects are launched into space.) However, no objects were observed departing the craft by either amateur or professional satellite trackers. A possible scenario is that the smallsats were mounted inside the cargo bay and exposed to space, which would be a valid way to either collect data or test future hardware — without adding more satellites or space debris to what's already in orbit. It also has the benefit of being brought back to Earth for analysis.
Now, for four bonus facts!
As mentioned, the X-37B has payload bay doors like the Space Shuttle; unlike the Shuttle, the craft's systems are powered via a solar panel which deploys once the doors are open. This is one of the secrets to its ability to stay in orbit for so long. By contrast, the Shuttle was powered by hydrogen fuel cells which provided lots of energy, but only for a limited time – STS flights had to be limited to a maximum of about 3 weeks in space before having to land or risking going dead in space.
When landing, the OTV uses its thrusters to perform a deorbit burn via a command sent from ground-based controllers, and once in the atmosphere it relies on its aerodynamic control surfaces to provide attitude & direction. Much like the larger Space Shuttle from which this was derived, the craft performs a series of high altitude "S-turns" under automatic pilot before eventually lining up for landing with the runway at Kennedy.
In another nod to the old STS program, the current X-37s are serviced & refurbished by Boeing at a Shuttle-era hangar which is accessible from the runway there on the grounds of KSC.
There are actually 2 X-37B vehicles in service. Recently, the USAF revealed that they were "both doing fine." However, there are no obvious external differences between them, and it is not known which one made this particular trip.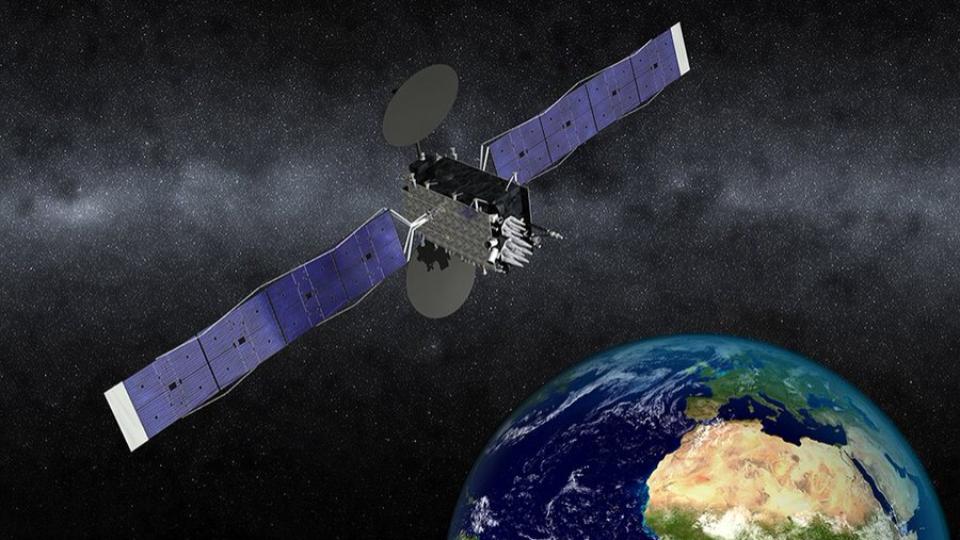 Next up, Northrop Grumman investigates a possible failure of a solar array aboard Eutelsat 5 West B.
Launched earlier this month on 09 OCT 2019, Eutelsat 5 West B is reported to have an issue with one of its two solar panel arrays. Tracking data from the US military indicate the craft achieved its test orbit under its own power & seemingly w/out issue; the solar array problem seems to have cropped up after arriving at the test orbit.
In a terse, un-illuminating statement released on Thursday, 24 OCT 2019, Eutelsat announced that "An inquiry with Northrop Grumman to investigate the causes of the incident and assess the impact on the performance of the satellite is underway." No further details were given, however a complete failure of one of the two arrays would likely render the craft largely unable to perform its primary mission in anything other than a highly limited capacity.
The statement also reiterated the fact that E-5WB is fully insured against failure from launch through the first full year of orbital operations (reportedly, nearly US$200 million). The Eutelsat 5 West satellite, still in operation at this time, brought an estimated US$33.3 million in revenue last year.
In addition to its regular communications payload, the spacecraft also hosts an European Geostationary Navigation Overlay Service module. In active service since 2011, the EGNOS augments the satellite signals received from other global navigation programs such as the GPS or Galileo, and is intended to provide augmented capability during particular activities where high-resolution may be required, such as shipping navigation within narrow channels, or aircraft on final approach & landing.
The EGNOS payload aboard the E-5WB spacecraft provides upgraded data & testing intended to validate version 3 of the EGNOS system, which is expected to provide greater security, interoperability, and access to consumers within & beyond the EU member states. At this time, there has been no word from Eutelsat nor the European Global Navigation Satellite Systems Agency (or GSA, the agency which operates EGNOS) as to the effects this incident may have on the operational capability of this navigational payload.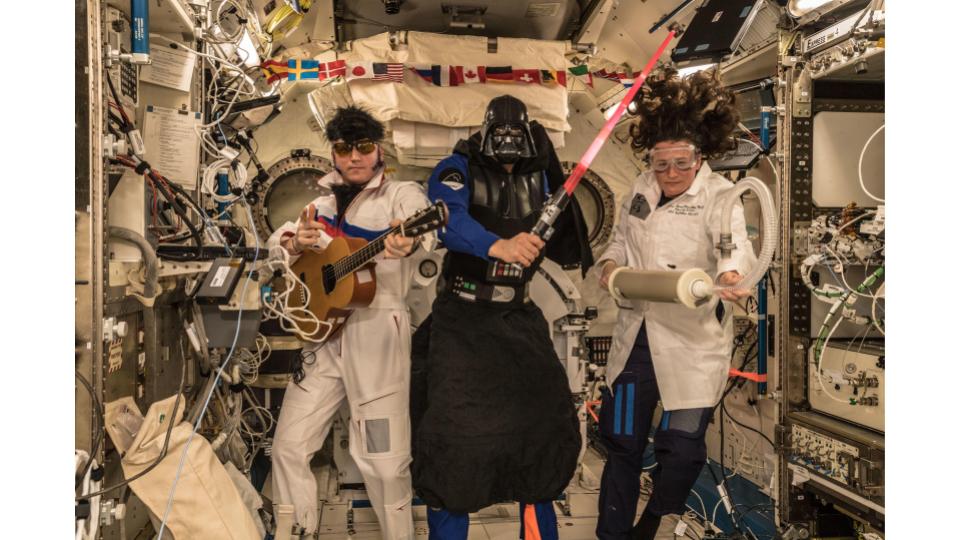 Because tomorrow is Halloween and it's the spooky season, I figured I'd include include a Halloween related ISS tid-bit.
Astronauts and cosmonauts celebrate Halloween while on the ISS!!  They dress up in costumes and take photos. Last year, ESA astronaut Alexander Gerst dressed as the Star Wars character Darth Vader, Russian cosmonaut Sergei Prokofiev as Elvis while NASA astronaut Serena Auñón-Chancellor is taking science to the extreme wearing a skull-and-crossbones badged lab coat.
The tradition will probably continue for this year, but we'll have to wait to see what the crew dresses up as.
And finally, the news update none of you asked for, but are getting anyways.  Because space toilets.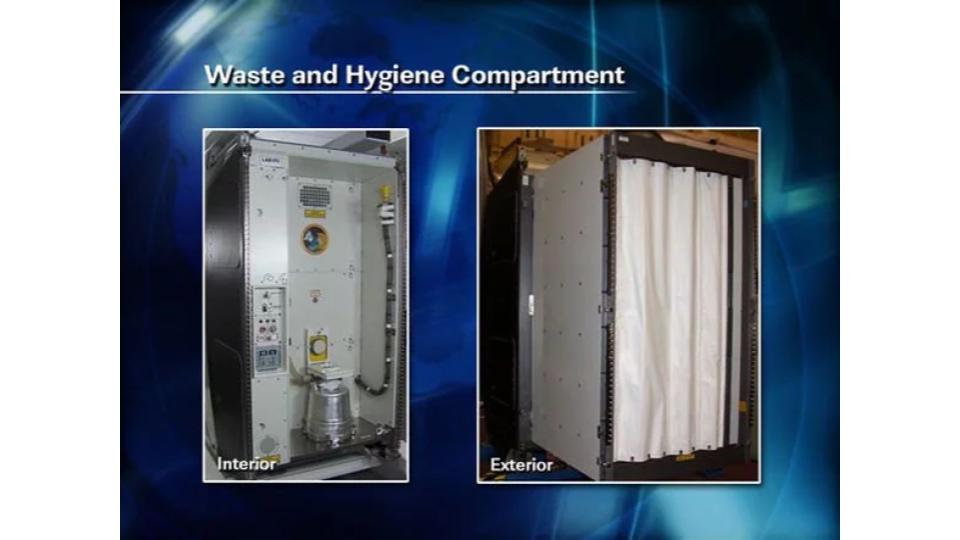 On October 25th, Commander Luca Parmitano performed maintenance on one of the toilets on the ISS.  The orbital outhouse in the Tranquility module needed a few hydraulic components replaced.
Because the toilets are considered mission critical, at least one crew member knows how to perform routine maintenance and repair on them.  Next month, this particular toilet will have been in space for 11 years!
And yup, still four toilets in space.
———————
That rounds out our show for today.
Thank you all for listening. The Daily Space is produced by Susie Murph, and is a product of the Planetary Science Institute, a 501(c)3 non profit dedicated to exploring our Solar System and beyond. We are made possible through the generous contributions of people like you. If you would like to learn more, please check us out on patreon.com/cosmoquestx
Each live episode of the Daily Space is archived on YouTube. If you miss an episode here on Twitch.tv, you can find it later on youtube.com/c/cosmoquest. These episodes are edited and produced by Susie Murph.
We are here thanks to the generous contributions of people like you who allow us to pay our staff a living wage. Every bit, every sub, and every dollar committed on Patreon.com/cosmoquestx really helps. If you can't give financially, we really do understand, and there are other ways you can help our programs. Right now, the best way you can help is to get the word out. Let you friends know, share our channel to your social media, or leave a recommendation. You never know what doors you are opening.
We really wouldn't be here without you – thank you for all that you do.