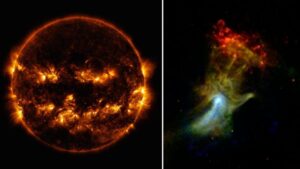 Around our parent collaboration, CosmoQuest, Halloween is, hands-down, the most beloved season of the year. Costumes are worn. Yards are decorated. We are here for all the strangers that knock on our door – the weirdos, the witches, and the oh-so-many werewolves – and there will be as much candy as we can afford given out.
We know we are not the only ones. With about a week to go, we know that any day now, NASA, ESA, ESO, and others will begin releasing their spooky season images. There will be nebulae cropped with the contrast adjusted just so to reveal witches' hats, and others rotated to reveal ghosts and maybe – I can hope – a Goblin or too.
We are telling you this because in this weird era of too many social media platforms, if you don't know to go looking for Spooky Season space images, you just might miss those spooky season space images.
And the pumpkins. Pretty much every year, JPL does a pumpkin carving contest like no other. You need to follow JPL on the socials now, to catch all the gourdy goodness.
I'm telling you all of this now, because the … well… I'm already in a Halloween state of mind and let's face it, we need as much joy as we can find in our current world… Also… our recording schedule is such that we record over the weekend and release mid-week, and our next episode will be coming to just after Halloween and it will be recorded before the best is released, and then get released after the best has already happened.
So get ready… squint your eyes, tilt your head, and find all the ghouls in the galactic plane. It is time to use your Pareidolia for good. … And if you missed the episode Pareidolia is your brain's ability to see faces and other shapes that aren't actually there in shapes of everyday objects. We did an entire closer look on this last year, and we'll link back to it in the show notes.