Podcaster: Host : Fraser Cain ; Guest: Dr. Paul Halpern, Dr. Nick Castle, Allen Versfeld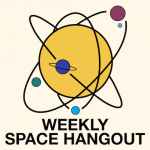 Title: Weekly Space Hangout – Flashes of Creation by Dr. Paul Halpern: George Gamow, Fred Hoyle, & the Great Big Bang Debate
Link: Cosmoquest: http://cosmoquest.org
Description:
Today's story:
Water on Mars…
Giant exoplanets!
How quickly the Moon cooled.
[Editor Rich: I'm sorry about the many, many audio dropouts in the feed today. We'll look into the cause and try to address the problem. Thank you for understanding!]
Host: Fraser Cain ( @fcain )
Special Guest: This week we welcome Dr. Paul Halpern, professor of physics at the University of the Sciences in Philadelphia. His new book, "Flashes of Creation: George Gamow, Fred Hoyle, and the Great Big Bang Debate" brings to life one of the greatest clashes of ideas in the history of science.
Dr. Paul Halpern is a professor of physics at the University of the Sciences in Philadelphia and the author of seventeen popular science books, including The Quantum Labyrinth, Einstein's Dice and Schrödinger's Cat, and Synchronicity. He is the recipient of a Guggenheim Fellowship and is a Fellow of the American Physical Society. He lives near Philadelphia, Pennsylvania.
Be sure to follow Paul on Twitter (https://twitter.com/phalpern) and Facebook (https://www.facebook.com/DrPaulHalpern/).
Regular Guests:
Today's sponsor: Big thanks to our Patreon supporters this month: Rob Leeson, David Bowes, Brett Duane, Benett Bolek, Mary Ann, Frank Frankovic, Michael Freedman, Kim Hay, Steven Emert, Frank Tippin, Rani Bush, Jako Danar, Joseph J. Biernat, Nik Whitehead, Michael W, Cherry Wood, Steve Nerlich, Steven Kluth, James K Wood, Katrina Ince, Phyllis Foster, Don Swartwout, Barbara Geier, Steven Jansen
Please consider sponsoring a day or two. Just click on the "Donate" button on the lower left side of this webpage, or contact us at signup@365daysofastronomy.org.
Or please visit our Patreon page: https://www.patreon.com/365DaysOfAstronomy
End of podcast:
365 Days of Astronomy
=====================
The 365 Days of Astronomy Podcast is produced by Planetary Science Institute. Audio post-production by Richard Drumm. Bandwidth donated by libsyn.com and wizzard media. You may reproduce and distribute this audio for non-commercial purposes.
This show is made possible thanks to the generous donations of people like you! Please consider supporting to our show on Patreon.com/365DaysofAstronomy and get access to bonus content.
After 10 years, the 365 Days of Astronomy podcast is poised to enter its second decade of sharing important milestone in space exploration and astronomy discoveries. Join us and share your story. Until tomorrow! Goodbye!