Podcaster: Host : Fraser Cain ; Guest: Dr. Meng Jin, Dr. Brian Koberlein,
Moiya McTier, Beth Johnson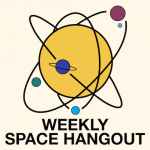 Title: Weekly Space Hangout –   Meng Jin – Modeling Coronal Mass Ejections
Link: Cosmoquest: http://cosmoquest.org
You can watch the video in:
Description: Today's story:
The Gemini Planet Imager Exoplanet Survey, GPIES. https://www.seti.org/gemini-planet-imager-exoplanet-survey-gpies
Venus at Greatest Elongation.
Jupiter/Mars conjunction before dawn.
Heat on Mercury helps it make ice. What???
Finding BH mergers from LIGO/VIRGO public data.
Co-host roundtable discussion of internet resources.
Host: Fraser Cain ( @fcain )
Special Guests: Special Guest: This week we are pleased to welcome Dr. Meng Jin, Research Scientist at the SETI Institute, to the Weekly Space Hangout. Meng uses numerical modeling techniques to analyze Coronal Mass Ejections (CMEs) and related events [e.g., CME-Driven Shocks and Solar Energetic Particles (SEPs).] By comparing these models with in-situ and remote sensing observations, a better understanding of the physical processes during the propagation of CMEs can be developed resulting in more accurate space weather forecasts which will help to better protect Astronauts and space-based equipment such as satellites and the ISS.
Recently, Meng's data modeling has expanded to include the simulation of stellar winds and CMEs for exo-solar and exo-planetary systems to study their influence on the habiitability of exo-planets.
Meng received his BS in Astronomy and MS in Astrophyiscs from Nanjing University, China. He was awarded his PhD in Space Physics & Scientific Computing from the University of Michigan in 2014 after which did his post-doc at Lockheed Martin Solar and Astrophysics Lab. From 2016-2017 Meng was a Project Scientist at UCAR, and in January 2018 he joined the SETI Institute as a Research Scientist.
You can read Meng's full bio here https://www.seti.org/our-scientists/meng-jin
To learn more about the SETI Institute, visit https://seti.org/
Regular Guest:
Dr. Brian Koberlein ( https://briankoberlein.com/ & @BrianKoberlein )
Moiya McTier ( https://www.moiyamctier.com/ & @GoAstroMo )
Beth Johnson – SETI Institute ( @SETIInstitute / @planetarypan )
Today's sponsor: Big thanks to our Patreon supporters this month: Dustin A Ruoff, Brett Duane, Kim Hay, Nik Whitehead, Timo Sievänen, Michael Freedman, Paul Fischer, Rani Bush, Karl Bewley, Joko Danar, Steven Emert, Frank Tippin, Steven Jansen, Barbara Geier, Don Swartwout, James K. Wood, Katrina Ince, Michael Lewinger, Phyllis Simon Foster, Nicolo DePierro.
Please consider sponsoring a day or two. Just click on the "Donate" button on the lower left side of this webpage, or contact us at signup@365daysofastronomy.org.
Or please visit our Patreon page: https://www.patreon.com/365DaysOfAstronomy
End of podcast:
365 Days of Astronomy
=====================
The 365 Days of Astronomy Podcast is produced by Planetary Science Institute. Audio post-production by Richard Drumm. Bandwidth donated by libsyn.com and wizzard media. You may reproduce and distribute this audio for non-commercial purposes.
This show is made possible thanks to the generous donations of people like you! Please consider supporting to our show on Patreon.com/365DaysofAstronomy and get access to bonus content.
After 10 years, the 365 Days of Astronomy podcast is poised to enter its second decade of sharing important milestone in space exploration and astronomy discoveries. Join us and share your story. Until tomorrow! Goodbye!