Podcaster:  Host :Fraser Cain; Guest : Dr. Natalie Hinkel, Dr. Kimberly Cartier, Dr. Morgan Rehnberg, Dr. Paul M. Sutter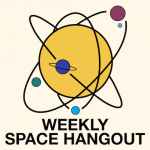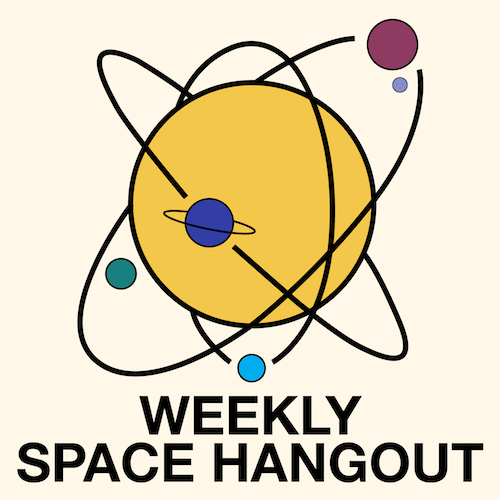 Title: Weekly Space Hangout : Guest: Dr. Natalie Hinkel & "The Hypatia Catalog"
Link: Cosmoquest: http://cosmoquest.org
You can watch the video in: http://youtu.be/DOvdLoS7qeI
Description: Today's story:
Goodbye Marco. (And Polo too, I suppose…)
The Milky Way is totally warped!

Measuring Martian gravity with Curiosity.

Catastrophic planetary collisions.
The first science from Chang'e 4.

Tonight we welcome author Rod Pyle who will be discussing his new book, Space 2.0: How Private Spaceflight, a resurgent NASA, and International Partners Are Creating a New Space Age (BenBella Books, February 2019), written in collaboration with the National Space Society.
Host: Fraser Cain ( @fcain )
Special Guest:  Dr. Natalie Hinkel is a Planetary Astrophysicist at the Southwest Research Institute and a co-investigator for the Nexus for Exoplanet System Science (NExSS) reserach network at Arizona State University. Natalie studies elements in our solar neighborhood (i.e., within 150pc of the Sun,) to learn how element abundances impact the structure and mineralogy of planets.

Natalie has created an online database/catalog of stellar element abundances called The Hypatia Catalog which can be used to explore physical and chemical stellar data as well as planetary properties. The catalog is available here: http://www.hypatiacatalog.com/
Natalie is also a member of the Transit Ephemeris Refinement & Monitoring Survey (TERMS) team which analyzes planetary systems with bright stars using new Radial Velocity and photometric measurements. These new techniques vastly improve planetary orbit uncertainties and fundamental host star properties which help to confirm or exclude planetary transits.
You can learn more about Natalie – and listen to her recent segment on the NPR news quiz show Wait Wait… Don't Tell Me! – by visiting her website at http://www.nataliehinkel.com/
And don't forget to check out her podcast, The Science Bar, here: http://www.sciencebarpodcast.com/
Guests:
Dr. Kimberly Cartier ( http://KimberlyCartier.org & @AstroKimCartier )
Dr. Morgan Rehnberg ( http://cosmicchatter.org/ & @MorganRehnberg )& Dr. Paul Matt Sutter ( http://www.pmsutter.com/ & @PaulMattSutter )

Today's sponsor: Big thanks to our Patreon supporters this month: Frank Tippin, Brett Duane, Jako Danar, Joseph J. Biernat, Nik Whitehead, Timo Sievänen, Steven Jansen, Casey Carlile, Phyllis Simon Foster, Tanya Davis, Rani B, Lance Vinsel, Steven Emert.
Immerse yourself in the web of life under a symphony of starlight in Costa Rica with Paul Sutter. Check it out at: http://astrotours.co/365days
Please consider sponsoring a day or two. Just click on the "Donate" button on the lower left side of this webpage, or contact us at signup@365daysofastronomy.org.
Or please visit our Patreon page: https://www.patreon.com/365DaysOfAstronomy
End of podcast:
365 Days of Astronomy
=====================
The 365 Days of Astronomy Podcast is produced by Planetary Science Institute. Audio post-production by Richard Drumm. Bandwidth donated by libsyn.com and wizzard media. You may reproduce and distribute this audio for non-commercial purposes. Please consider supporting the podcast with a few dollars (or Euros!). Visit us on the web at 365DaysOfAstronomy.org or email us at info@365DaysOfAstronomy.org. This year we will celebrates the Year of Everyday Astronomers as we embrace Amateur Astronomer contributions and the importance of citizen science. Join us and share your story. Until tomorrow! Goodbye!