Podcaster: Richard Drumm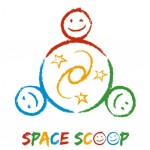 Title: Space Scoop: Asteroids' Distant Cousin Discovered
Organization:365 Days Of Astronomy
Link : astrosphere.org ; http://www.unawe.org/kids/unawe1809/
Description: Space scoop, news for children. On March 15, 2004 an object called 2004 EW95 was found by astronomers at Kitt Peak Observatory. It was a plutino. This is a class of Kuiper Belt Object or KBO that is in a 2:3 orbital resonance with Neptune. This is where Neptune goes around the Sun 3 times and the on-average more distant plutino goes around 2 times. Pluto does this too as you might guess.
Bio: Richard Drumm is President of the Charlottesville Astronomical Society and President of 3D – Drumm Digital Design, a video production company with clients such as Kodak, Xerox and GlaxoSmithKline Pharmaceuticals. He was an observer with the UVa Parallax Program at McCormick Observatory in 1981 & 1982. He has found that his greatest passion in life is public outreach astronomy and he pursues it at every opportunity.
Today's sponsor: This episode of "365 Days of Astronomy" is sponsored by — no one. We still need sponsors for many days in 2016, so please consider sponsoring a day or two. Just click on the "Donate" button on the lower left side of this webpage, or contact us at signup@365daysofastronomy.org.
Transcript:
This is the 365 Days of Astronomy Podcast. Today we bring you a new episode in our Space Scoop series. This show is produced in collaboration with Universe Awareness, a program that strives to inspire every child with our wonderful cosmos.
Asteroids' Distant Cousin Discovered
Our Solar System is a pretty busy place, with eight planets and nearly 200 moons all whizzing around the Sun. Today, each planet strolls calmly along its own path, but it appears that this has not always been the case.
Travel four billion years back in time and astronomers think you'd see the gas giants Jupiter & Saturn rampaging through our Solar System.
Back then, millions of small pieces of rock were lying around, left over from when the planets were born. These are the asteroids.
According to the Grand Tack hypothesis, Jupiter formed at 3.5 AU and then migrated in to 1.5 AU, almost to where Earth is now at 1 AU. Then it turned about like a sailboat tacking against the wind and migrated back out to 5.2 AU where it is today.
As the giant planet careened back out through our Solar System, it pulled against Saturn with good old gravity and the resulting chaos kicked the small asteroids in Jupiter's path far, far from the Sun.
If this hypothesis is correct, some of the asteroids floating around at the edge of the Solar System today should be made of the same material as those found closer to the Sun. Meaning they should contain a lot of carbon.
However, astronomers haven't been able to find any of these carbon-rich asteroids in the outer Solar System — until now, that is!
On March 15th, 2004 an object called 2004 EW95 was found by astronomers at Kitt Peak Observatory. It was a plutino. This is a class of Kuiper Belt Object or KBO that's in a 2:3 orbital resonance with Neptune.
This is where Neptune goes around the Sun 3 times and the on-average more distant plutino goes around 2 times. Pluto does this too as you might guess.
Now, I say "on-average" because when it was discovered this object was closer to the Sun than Neptune, and still is. It's elongated elliptical orbit usually has it farther away than Neptune. In time it'll get back out there and get farther away from the Sun than even Pluto.
The peculiar nature of 2004 EW95 first came to light in 2014 during routine observations with the Hubble Space Telescope by Queen's University, Belfast team member Wesley Fraser.
Its color was just odd. Different from all the other KBOs.
Then in 2014 and 2017 a team of astronomers led by Tom Seccull of Queen's University was able to measure the composition of EW95, and thus determine that it's a carbonaceous asteroid.
By looking at the light reflected off its surface with spectroscopes & splitting the light into its constituent colors, the astronomers were able to work out that it contains a huge amount of carbon.
They took measurements with multiple instruments at ESO's Very Large Telescope (VLT) at Paranal Observatory in Chile. The team observed EW95 with the X-Shooter and FORS2 spectroscopes on the VLT.
Though the object is about 290 kilometers across, it's currently 27 AU from the Sun, a little closer than Neptune at 30 AU. This makes pulling spectra from its dark, carbon-rich surface quite a challenge.
It's said to be like observing a giant mountain of coal against the black of the night sky.
Two features of the object's spectra were particularly eye-catching and corresponded to the presence of ferric oxides and phyllosilicates. The presence of these materials had never before been confirmed in a KBO.
Phyllosilicates in particular are indicative of liquid water being present at some point since the formation of the rocks as phyllosilicates are all hydrated. That would be hard to do out at its current position and 35Kelvin temperature.
This strongly suggests that it originally formed in the inner Solar System and must have since been flung outwards, pushed by migrating gas giants.
Finally, we are close to having evidence to support that hypothesis about our Solar System's chaotic past!
Hey, Here's A Cool Fact!
Carbon is an extremely versatile atom. The number of molecules it can be assembled into is truly staggering! It can form into more compounds, almost 10 million, than any other element. It has been referred to as the "King of the elements."
No wonder it's the main ingredient for all life on Earth!
Thank you for listening to the 365 Days of Astronomy Podcast!
The scientific paper:
https://arxiv.org/pdf/1710.01440.pdf
End of podcast:
365 Days of Astronomy
=====================
The 365 Days of Astronomy Podcast is produced by Astronomical Society of the Pacific. Audio post-production by Richard Drumm. Bandwidth donated by libsyn.com and wizzard media. You may reproduce and distribute this audio for non-commercial purposes. Please consider supporting the podcast with a few dollars (or Euros!). Visit us on the web at 365DaysOfAstronomy.org or email us at info@365DaysOfAstronomy.org. This year we will celebrates the Year of Everyday Astronomers as we embrace Amateur Astronomer contributions and the importance of citizen science. Join us and share your story. Until tomorrow! Goodbye!