Podcaster: Dr Leslie Rogers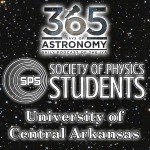 Title: The Diversity and Demographics of Distant Rocky Worlds
Organization: The Society of Physics Students (SPS) at The University of Central Arkansas
Link : The Society of Physics Students (SPS) at The University of Central Arkansas
Dr. Leslie Rogers: http://www.astro.caltech.edu/~larogers/Welcome.html
Description:  The discovery of exoplanets (planets outside our Solar System) has brought the settings of many science fiction stories within reach of scientific inquiry. Astronomers' ever increasing sensitivity to smaller and smaller planets has opened the opportunity for empirical insights into the nature and demographics of distant terrestrial worlds. Up to what size and mass do planets typically have rocky compositions? How Earth-like are these distant rocky worlds? How common are rocky planets in the Habitable Zones of their host stars? In this talk, I will present the current constraints on each of these questions, appealing both to individual planet case studies and to planet population statistics.
Bio: The Society of Physics Students (SPS) at The University of Central Arkansas is incorporates outreach, demonstrations, tutoring and guest speakers into our SPS Chapter.
Dr. Leslie Rogers is a Hubble Fellow at Caltech. Her research focus encompasses the interior structure, formation, evolution, and habitability of sub-Neptune and super-Earth planets. I also enjoy studying astrostatistics, planet microlensing, interacting binary stars, and meteor ablation.
Today's sponsor: This episode of "365 Days of Astronomy" is sponsored by — no one. We still need sponsors for many days in 2016, so please consider sponsoring a day or two. Just click on the "Donate" button on the lower left side of this webpage, or contact us at signup@365daysofastronomy.org
End of podcast:
365 Days of Astronomy
=====================
The 365 Days of Astronomy Podcast is produced by Astrosphere New Media. Audio post-production by Richard Drumm. Bandwidth donated by libsyn.com and wizzard media. You may reproduce and distribute this audio for non-commercial purposes. Please consider supporting the podcast with a few dollars (or Euros!). Visit us on the web at 365DaysOfAstronomy.org or email us at info@365DaysOfAstronomy.org.  This year we will celebrate more discoveries and stories from the universe. Join us and share your story. Until tomorrow! Goodbye!