Podcaster: Ralph & Paul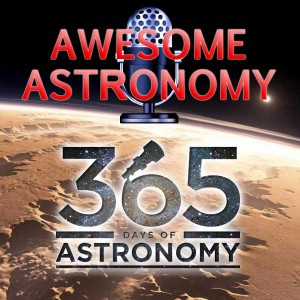 Title : Awesome Astronomy's January Sky Guide
Organization: Awesome Astronomy
Link : www.awesomeastronomy.com
Description: What to look out, and up, for in January. We start with three Messier open clusters in Auriga and a tougher nebula in our beginner's guide.
Next up Mercury rises high in our Northern Hemisphere skies. Jupiter dominates the night sky and Saturn, Venus, Uranus & Neptune can be found with the right timing. We bring you the phases and libration events of the moon, the Quadrantid meteor shower and a new comet to take a look for. Then we round up the best of the deep sky offerings for the month in the winter often overlooked constellations of Cancer & Lynx.
For those in the Southern Hemisphere, 365 Days of Astronomy also play Alice Enevoldsen's What's Up Tonight, Southern Skies Edition each month.
Bio: Awesome Astronomy is the show for anyone and everyone who has even the slightest interest in astronomy and science.
Join Ralph & Paul twice each month, for informative and fun astronomy programs telling you what to look out (and up) for every month. You can be guaranteed a passion for astronomy, simple explanations of complex and fundamental topics, space and science news, absorbing interviews with astronomers who make the news and listeners' astronomy questions answered
Today's sponsor: This episode of "365 Days of Astronomy" is sponsored by — no one. We still need sponsors for many days in 2015, so please consider sponsoring a day or two. Just click on the "Donate" button on the lower left side of this webpage, or contact us at signup@365daysofastronomy.org.
Transcript:
Paul: January and while your New Year hangover may be still be gnawing away at your sanity the dark long nights beckon you to get on that new coat you picked up in the sales, take the tinsel off your telescope and get outside and enjoy the sky. We have a decent meteor shower, some more of those Jovian mutual events, a rare jupiter event, a comet and some great deep sky delights to get you off to a good 2015. But first lets have a look at the beginners guide with Ralph.
Ralph: Well, this month we're going to take a look in Auriga the Charioteer. This is an often overlooked constellation but it's a got some real gems and can't be missed because of the star Capella – the fourth brightest in the northern hemisphere and after Sirius in the south, Capella will be the 2nd brightest star visible this month before midnight. Just look straight up and you can't miss it. Looking into this constellation is looking deep outside the galaxy because our Milky Way's centre, packed with stars and a supermassive black hole that we all orbit around, is in the exact opposite side of the sky to Auriga.
But in Auriga we have a rich array of open clusters that can easily be seen with binoculars or a small telescope and we'll finish off with a bit more of a challenge to find a faint emission nebula more at home in Orion's belt.
But starting off we have the relatively young cluster of stars known as Messier 36. To find this, look for the Magnitude 1.6 blue star Alnath, which forms the boundary between Auriga and the more familiar Taurus. About one third the distance along a line from Alnath to the bluey white star Menakalinan at the top of Auriga and just over a degree to the right of that point sits M36. If this cluster wasn't 10 times further away from us than the brilliant Pleiades Cluster, they would look very much the same. But crank up the magnification when you find it to see these hot blue suns, more than 200 times younger than our own star.
Now we go for Messier 37. Draw a line from Alhena in the foot of the unmistakable constellation of Gemini (Alhena is the brightest star in the feet of the twins and white in colour) and follow that line half way towards bright Capella in Auriga. A degree below that mid point is the most dense and bright of the three major clusters in Auriga. This cluster appears to me like a small globular cluster but, with more than 30 times more stars than Messier 36, all packed into an area only slightly larger, that's probably not surprising. Even if you struggle to find this cluster from my instructions, you should easily locate the spot during a wild scan of the region. And it really is a fine cluster in binoculars or a small scope.
The last of our trio of open cluster in Auriga is the aptly named Messier 38. Charles Messier obviously spent a busy period in Auriga! But to find M38 we need the bright silicon rich white star Theta Aurigae between Menkalinen and Alnath. Draw a line from Theta Aurigae to Orange Hasseleh on the right hand side of Auriga. At the midpoint sits Messier 38 – a colourful dense region of blue, yellow and red stars that make up the Starfish Cluster. Scan around the cluster and you'll spot a smaller dimmer cluster called NGC 1907 – so this is a two-for-one.
Finally, we have a difficult nebula to hunt down. But around midnight this month, if you're facing west and looking up at M38, just drop down by 3 degrees and you'll find the region where Caldwell 31 or the Flaming Star Nebula sits. This is an emission/reflection nebula in which clouds of gas are energised by nearby stars and glow, and the dust there, combines to reflect this star light. In this case, the star in question is the magnitude 6 blue dwarf, AE Aurigae, which is surrounded by faint tendrils of glowing gas and dust 1,500 light years from us. Although only just further away from us than the Orion Nebula, the Flaming Star only appears about half the size and much fainter in the eyepiece. Interestingly though, the star that creates the nebula, AE Aurigae, is actually calculated to have originated in the Trapezium Cluster in the heart of the Orion Nebula 2 million years ago!
Anyway, I'd recommend a dark sky and an Ultra High Contrast or Oiii filter to help you tease out that faint nebulosity around the star. So, back to you Paul.
Paul: So let's turn our attention to the solar system this month and see what our little bit of the cosmic neighbourhood has to offer us in January.
The star turn this month is the conjunction between Venus and Mercury in the evening sky. Now if you have never seen Mercury or know someone that hasn't then this is a golden opportunity to find the smallest planet as it will be sitting close to the brightest planet in the sky for most of the month on the hour after sunset and on the 10th will be just 39 arcminutes away. If you can't find Mercury with that kind of signpost then you're probably looking the wrong way. Greatest elongation for Mercury will be the 14th and that night will give you 105 minutes of viewing time, with Venus still not far away acting as a perfect pointer. After 14th Mercury will begin to fade from the -0.7 magnitude it started the month with by your last glimpse on the 28th it will be down at +2.8 magnitude before it vanishes into the suns glare.
Venus on the other hand will continue to climb in the sky and is set to become a star attraction for early evening observers as we move into february, growing larger and staying around after sunset longer every evening.
Jupiter is with us all night long now,rising in the east around 7.30pm at the start of the month and giving us decent high altitude views earlier and earlier as the month goes on. We have more of those mutual events to look out for this month look out particularly for a double transit and shadow transit of Io and Europa on the night of the 2nd beginning after 1030pm UT and finishing after 3am UT on the third. For the real night owls there is a total occultation of Europa by Ganymede on the morning of the 19th beginning at 2.30am UT and lasting less than 10 minutes.
The big news for Jupiter is the triple shadow transit on the 24th which will see the shadows of Europa, Io and Callisto cross the Jovian disc between 6.28am UT and 6.53am UT. Worth getting up early for as this is spectacular sight but also rare as the next time we get a triple transit will be in 2032, so set those alarms.
The other planets are not that spectacular in January. Saturn is there to be seen before dawn in Scorpious, Uranus is culminating at dusk but descends rapidly while Mars and Neptune re low in the evening sky. On the 19th it is worth pointing out that mars and Neptune will appear just 19 arcminutes from each other in Aquarius after sunset.
The moon this month starts as a waxing gibbous and reaches full at on the 5th at 4.54am UT. Last quarter is reached on the 13th at 9.47am UT, new moon is achieved on the 20th at 1.14pm UT and first quarter 27th at 4.49am UT.
Look out for a good libration chance on the 17th with a chance to catch a decent view of the Mare Orientale and if you look at the evening sky on the 21st you might catch the thin crescent moon joining Venus and Mercury.
We may have a decent comet on view as the month goes on in the form of C2014 Q2 Lovejoy which begins the month in Lepus and climbs slowly through Eridanus, Taurus, Aries and into Triangulum. It fades i magnitude as the month goes on starting out at +8.3. But altitude will be in it's favour and it should be visible in decent binoculars. Give it a go as with an orbital period of 8000 years you are going to have to wait a while for it's return.
January begins with a decent meteor shower in the form of the Quadrantids which peak on the night of the 3/4th. It is the dust trail of an extinct comet and has a good Zenithal hourly rate but this year is unlikely to be a vintage year as the moon is full on the 5th.
For this months deep sky challenge we have four objects in two of the less remarkable constellations in the sky, Cancer and Lynx, which sit next to each other behind Gemini and Auriga. Starting with Cancer we have the easier of the four objects in the form of two Messier objects that in one case is naked eye visible. M44 praesepe or the bee-hive cluster is one of the skies great binocular targets and is easily found with the naked eye in dark skied sitting on a line between gamma and delta cancri. You will see a large cluster of magnitude 6 stars and should be able to see easily 40-50. It is 520 light years away and praesepe is latin for manger, a reference to birth place of the founder of Christianity. Gamma and Delta are often referred to as the donkeys.
Next in Cancer is M67 another open cluster but this one is over 5 times more distant and requires at least binoculars to locate. You will locate it easily from alpha cancri and you should see a denser cluster or around 200 stars. This is a very old open cluster and has been aged at 4 billion years old.
Above cancer is the often unremarked Lynx. To be fair it is not a bright and distinctive constellation but a closer look reveals deep sky treasure to be had. Both of these are more difficult targets and require a telescope. The first is NGC 2419, th intergalactic wanderer. This name is erroneous and is based on the view that this globular cluster was passing by and not in orbit around the Milky Way. It is in orbit a 3 billion year orbit and it is the most distant glob yet discovered at 300000 light years. It has a particularly tight and bright core and is about magnitude 9. Not an easy find, it may be best to start at the star Castor in Gemini and work towards Polaris.
The last object is face on barred spiral galaxy NGC 2776. It has an apparent magnitude of 11.6 and will need a large scope or imaging kit. To locate you may be best working from the front paw of Ursa Major towards leo and leo minor.
So I wish you happy hunting and clear skies.
Ralph: For a full hour of monthly astronomy news, views, interviews and answers to listeners' questions, go to AwesomeAstronomy.com and look for Awesome Astronomy on iTunes, YouTube, Google+, Twitter & Facebook.
End of podcast:
365 Days of Astronomy
=====================
The 365 Days of Astronomy Podcast is produced by NUCLIO. Audio post-production by Richard Drumm. Bandwidth donated by libsyn.com and wizzard media. You may reproduce and distribute this audio for non-commercial purposes. Please consider supporting the podcast with a few dollars (or Euros!). Visit us on the web at 365DaysOfAstronomy.org or email us at info@365DaysOfAstronomy.org. This year we celebrate cosmic light as light is our info messenger in the universe. Join us and share your story to celebrate the International Year of Light. Until tomorrow! Goodbye!