Podcaster: Richard Drumm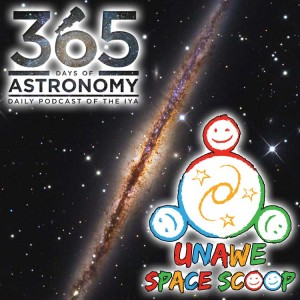 Title: Space Scoop: Cosmic Crashes Get Galaxies in a Spin
Organization: Astrosphere New Media
Link : astrosphere.org ; http://unawe.org/kids/unawe1439/
Description: Space scoop, news for children.
Bio: Richard Drumm is President of the Charlottesville Astronomical Society and President of 3D – Drumm Digital Design, a video production company with clients such as Kodak, Xerox and GlaxoSmithKline Pharmaceuticals. He was an observer with the UVa Parallax Program at McCormick Observatory in 1981 & 1982. He has found that his greatest passion in life is public outreach astronomy and he pursues it at every opportunity.
Today's sponsor: This episode of "365 Days of Astronomy" is sponsored by — no one. We still need sponsors for many days in 2013, so please consider sponsoring a day or two. Just click on the "Donate" button on the lower left side of this webpage, or contact us at signup@365daysofastronomy.org.
Transcript:
This is 365 Days of Astronomy. Today we bring you a new episode in our Space Scoop series. This show is produced in collaboration with Universe Awareness, a program that strives to inspire every child with our wonderful cosmos.
Today's story is…
Cosmic Crashes Get Galaxies in a Spin
If you go outside on a clear night, far away from city lights, you'll see thousands of twinkling stars. Each one is part of the galaxy we live in, a galaxy called the Milky Way.
Beyond the Milky Way, there are billions of other galaxies stretching to the edge of the Universe. Each one is a collection of billions of stars, cosmic dust and gas, all held together by gravity.
Galaxies come in a variety of shapes and sizes; many are spiral disc galaxies, like the Milky Way. These are extremely thin and often display curving spiral arms wrapped around a bulging center. Spiral galaxies rotate like giant spinning tops.
The large number of spiral galaxies is a mystery to astronomers. When we examine the galaxies in the universe we see that about 70% of them are disk-shaped spiral galaxies. These thin discs are fragile and easily disrupted by events such as collisions with other galaxies.
Throughout their lifetime almost every galaxy will be the victim of a cosmic collision. What galaxy mergers such as this are like is two galaxies actually crash through one another, become disfigured and start a frenzy of new star birth.
It is extremely unlikely that any stars actually collide with another star. There is just too much empty space between stars in the galaxy. The diffuse gas in the 2 galaxies does, however, collide. This is what causes the dramatic star formation rise.
Or it can also be that the galaxies pass close to each other, not quite colliding and affect each other simply through the pull of their gravity.
For many years astronomers have believed that when two similar-sized spiral galaxies collide, they will mash together and become a type of galaxy called an elliptical galaxy, the shape of a giant squashed football with stars orbiting the center of mass in all sorts of random orbital orientations.
But, if two merging spiral galaxies make one elliptical galaxy, how is it that there are still so many spiral galaxies in the Universe? This question's been puzzling astronomers for decades!
Well, just last week they finally, and unexpectedly, found the answer — new evidence from the ALMA array and other radio telescopes has shown that sometimes this kind of collision actually forms a giant spiral galaxy, not necessarily an elliptical galaxy. The scientists found that this outcome is actually quite common.
This could be why there are still so many beautiful spiral galaxies in the Universe!
Hey, here's a cool fact:
In four billion years the Milky Way galaxy will collide and merge with our nearest spiral-shaped neighbor, the Andromeda Galaxy. We'll just have to wait to see what kind of galaxy the combined "Milkdromeda" galaxy will be!
Thank you for listening to 365 Days of Astronomy!
End of podcast:
365 Days of Astronomy
=====================
The 365 Days of Astronomy Podcast is produced by Astrosphere New Media. Audio post-production by Richard Drumm. Bandwidth donated by libsyn.com and wizzard media. You may reproduce and distribute this audio for non-commercial purposes. Please consider supporting the podcast with a few dollars (or Euros!). Visit us on the web at 365DaysOfAstronomy.org or email us at info@365DaysOfAstronomy.org. In the new year the 365 Days of Astronomy project will be something different than before….Until then…goodbye