Podcaster: Richard Drumm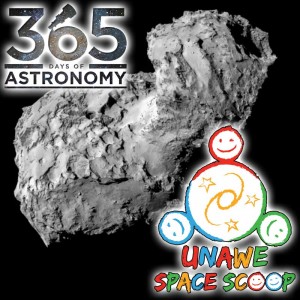 Title: Space Scoop: Rosetta Makes Friends with a Comet
Organization: Astrosphere New Media
Link : astrosphere.org ; http://unawe.org/kids/unawe1432/
Description: Space scoop, news for children.
Bio: Richard Drumm is President of the Charlottesville Astronomical Society and President of 3D – Drumm Digital Design, a video production company with clients such as Kodak, Xerox and GlaxoSmithKline Pharmaceuticals. He was an observer with the UVa Parallax Program at McCormick Observatory in 1981 & 1982. He has found that his greatest passion in life is public outreach astronomy and he pursues it at every opportunity.
Today's sponsor: This episode of "365 Days of Astronomy" is sponsored by — no one. We still need sponsors for many days in 2013, so please consider sponsoring a day or two. Just click on the "Donate" button on the lower left side of this webpage, or contact us at signup@365daysofastronomy.org.
Transcript:
This is 365 Days of Astronomy. Today we bring you a new episode in our Space Scoop series. This show is produced in collaboration with Universe Awareness, a program that strives to inspire every child with our wonderful cosmos.
Rosetta Makes Friends with a Comet
After traveling for 10 long years, covering over half the length of the Solar System and looping around the Sun five times, the Rosetta spacecraft has finally arrived at it's destination: Comet 67P/Churyumov–Gerasimenko
Rosetta, as of August 6th when this was written, was orbiting 100km above the comet's surface, sending details about its new friend back to Earth. For the next few weeks, Rosetta's main task is to search for the perfect landing site for the probe Philae that it's carrying.
If everything goes well, on November 11th Philae will become the first probe ever to be dropped onto a comet's surface!
But Rosetta's journey won't end there, for many months the little spacecraft will travel alongside the comet as it swings around the Sun and back out towards Jupiter again.
One year from now, in early August of 2015, the pair will approach the closest point to the Sun on their tour of the Solar System — this is where the comet will really begin to shine.
Comets are lumps of cosmic ice and rock, which means that as 67P travels closer to the Sun it will begin to melt. Well, not so much melt as sublimate.
That's where a solid like ice goes straight to a vapor without first going through a liquid phase. Cool, eh?
The vaporized ice from the comet will create a magnificent tail like comets are known for. We had a couple of nice comets back in the 1990s but unfortunately 67P won't be visible in our night sky without a powerful telescope, even with its tail.
Instead, Rosetta will provide us with something better — an up-close view of how the comet changes in the glare of the Sun!
Here's a Cool Fact: The mission is named after the Rosetta Stone, an ancient stone tablet that allowed us to decode ancient Egyptian Hieroglyphics.
Like the Rosetta Stone, ESA's Rosetta mission will reshape our understanding of the past by unlocking the mysteries of comets, objects made from the leftovers of when our Solar System formed.
Thank you for listening to 365 Days of Astronomy!
–––––––––––––––––––––––––––––––––––––––––
365 Days of Astronomy is a community podcast made possible thanks to the contributions of people like you. Please consider donating at 365DaysofAstronomy.org/Donate
End of podcast:
365 Days of Astronomy
=====================
The 365 Days of Astronomy Podcast is produced by Astrosphere New Media. Audio post-production by Richard Drumm. Bandwidth donated by libsyn.com and wizzard media. You may reproduce and distribute this audio for non-commercial purposes. Please consider supporting the podcast with a few dollars (or Euros!). Visit us on the web at 365DaysOfAstronomy.org or email us at info@365DaysOfAstronomy.org. In the new year the 365 Days of Astronomy project will be something different than before….Until then…goodbye