Podcaster:  Richard Drumm
Title: Space Scoop: Fresh Look at a Young Star Cluster
Organization:  Astrosphere New Media
Link :  astrosphere.org ; http://unawe.org/kids/unawe1420/
Description: Space scoop, news for children.
Bio: Richard Drumm is President of the Charlottesville Astronomical Society and President of 3D – Drumm Digital Design, a video production company with clients such as Kodak, Xerox and GlaxoSmithKline Pharmaceuticals. He was an observer with the UVa Parallax Program at McCormick Observatory in 1981 & 1982. He has found that his greatest passion in life is public outreach astronomy and he pursues it at every opportunity.
Today's sponsor: This episode of "365 Days of Astronomy" is sponsored by — no one. We still need sponsors for many days in 2013, so please consider sponsoring a day or two. Just click on the "Donate" button on the lower left side of this webpage, or contact us at signup@365daysofastronomy.org.
Transcript:
This is 365 Days of Astronomy. Today we bring you a new episode in our Space Scoop series. This show is produced in collaboration with Universe Awareness, a program that strives to inspire every child with our wonderful cosmos.
Fresh Look at a Young Star Cluster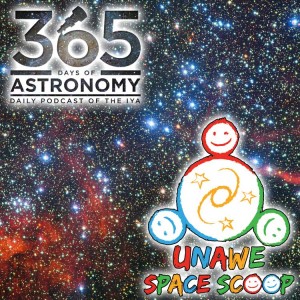 The Milky Way galaxy is the galaxy in which we live, a collection of billions of hot stars, their attendant planets and cosmic gas between the stars.
If you're lucky enough to have enjoyed a really dark sky, far from the light pollution in cities and towns, you might have seen the Milky Way arching majestically across the night sky.
From our spot on Earth, the Milky Way looks like a fuzzy arc of soft yellow light. These clumps of light are actually thousands of stars that our eyes cannot separate into individual stars – but our telescopes can!
The photograph in this episode's album art shows a patch of our Galaxy that contains a cluster of hundreds of young, close together stars, a cluster called NGC 3590, which is 7,500 light years away from Earth, and is young, just 35 million years old. Well, that's young for stars. Our Sun is 5 billion years old by comparison.
This is not just a pretty picture, but is very useful to astronomers! By studying this small, so-called "open" cluster and its cousins elsewhere in the Milky Way astronomers can learn more about the Milky Way and how stars form and how they evolve over time. Typical open clusters can contain anything from a few dozen stars to a few thousand stars.
We now know that the Milky Way is a spiral galaxy. It is made up of four long curving arms of gas, dust and stars. This star cluster lies in the Carina-Sagittarius arm, named after the two constellations we find it in. Now not only is our galaxy a spiral, but it's a barred spiral! There is a straight bar across the center of the galaxy and the 2 major arms start at the ends of the bar. The 2 minor arms lie between the major ones. I mean how cool is that? We're a barred spiral!
These spiral arms are actually waves of piled up gas and stars sweeping through the galactic disc, triggering sparkling bursts of star formation and leaving clusters like NGC 3590 in their wake. By finding and observing young stars like these, it is possible to determine the distances to the different parts of this large spiral arm, telling us more about the structure of our home galaxy.
Cool Fact: During a clear night, we should be able to see over 2,500 stars with the naked eye. Unfortunately, light pollution from street lights, cars, shops and the so-called "security" lights on our houses means that in cities we can only see a dozen or so of these stars. Visit Dark Skies International (www.darksky.org/) and find out how you help save our view of the stars!
Thank you for listening to 365 Days of Astronomy!
365 Days of Astronomy is a community podcast made possible thanks to the contributions of people like you. Please consider donating at 365DaysofAstronomy.org/Donate
End of podcast:
365 Days of Astronomy
=====================
The 365 Days of Astronomy Podcast is produced by Astrosphere New Media. Audio post-production by Richard Drumm. Bandwidth donated by libsyn.com and wizzard media. You may reproduce and distribute this audio for non-commercial purposes. Please consider supporting the podcast with a few dollars (or Euros!). Visit us on the web at 365DaysOfAstronomy.org or email us at info@365DaysOfAstronomy.org. In the new year the 365 Days of Astronomy project will be something different than before….Until then…goodbye